This article, Wilder Jones, is strictly property of Leo Kazisaski.
Wilder Jones

......Leave me alone.

Name

Wilder Jones

Race

Ginger

Age

18

DOB

March 2, 1994

DOD

When ever he feels like it.

Team

Himself

Likes

Omelets, solitude, the colour black.

Dislikes

Whatever killed his parents, evil, cheese on his omelets.

Family

Mother-Deceased

Father-Deceased

Catch phrase

You think you are innocent, Lets see what your soul says about that.
Wilder Jones
Edit
Wilder Jones is a 18 year old man who wanders around city to city. He is wary of his own past. He has no friends of any kind. He bares to the trauma to his parents' murder, of which he had witnessed. He has yet to figure out what killed his parents. All he knows is that he is a Ginger. A being with the ability to suck out your soul. He never wants to do this accidentally, so he wears a special pair of sunglasses designed to prevent him from losing control.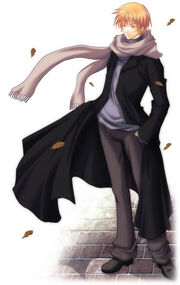 Personality
Edit
He has a mysterious personality and often fades into the background away from attention. He will never stop to say hi to anyone. With this way of staying out of others attention, he manages to take care of business in secracy.
Recent History
Edit
Has discovered that a legendary Ginger by the name of LT lives in California. Wilder has set off to meet him.
Community content is available under
CC-BY-SA
unless otherwise noted.